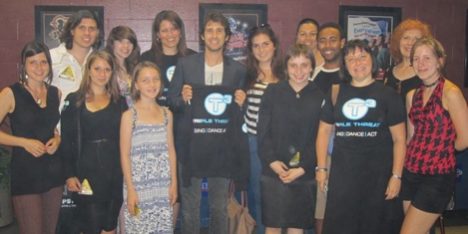 A huge THANK YOU to Josh Groban and the Find Your Light Foundation.
Saturday, August 13th 2011
Montreal Quebec – T3 Triple Threat Youth Mentors today announced that it has been selected by multi-platinum singer-songwriter Josh Groban to receive a donation from his new Find Your Light Foundation, which is dedicated to enriching the lives of young people through arts, education, and cultural awareness. T3 Triple Threat is one of the many arts education nonprofit organizations selected by Groban to receive funds from The Find Your Light Foundation during his "Straight to You" tour.
T3 Triple Threat Youth Mentors
"Ensuring every child has the opportunity to experience an arts education is very important to me," said Groban. " T3 shares this goal with me, and it gives me great pleasure to highlight the work they do."
While Groban tours the U.S. on his "Straight to You" tour, his Find Your Light Foundation will make a cash donation to a nonprofit arts education organization that operates in each locale in which the tour stops. In addition, Groban is inviting the head of that nonprofit; the artists, students and/or teachers who provide services for the nonprofit; and the children and young adults who receive services from the nonprofit to attend his concert and be recognized from the stage. They will also have the opportunity to meet Groban prior to the performance.
Taking the foundation's mission one step further, Groban is partnering with Americans for the Arts, the nation's leading nonprofit organization for advancing the arts and arts education, to launch a joint text-to-give campaign, which will run for the duration of his "Straight to You" tour in 2011. Proceeds from the campaign will go to support both The Find Your Light Foundation and Americans for the Arts as they work to ensure every child and young adult in America has access to quality arts education experiences. Text ART to 50555 to make a $10 donation to support the cause.
Groban will be in Montreal Quebec to perform on Saturday July 23rd as part of his "Straight To You" worldwide tour running through November. The tour supports his recent and fifth studio album, 'Illuminations' which has already been certified platinum in the U.S. Its No. 4 debut on Billboard's Top 200 chart is Groban's fourth consecutive Top 5 chart bow. Tickets for Josh's upcoming shows are available through http://www.ticketmaster.com.
To learn more about T3 Triple Threat Youth Mentors or make a donation please visit: www.ruatriplethreat.com
or ring (514) 631-2122